Smart Heating
Always return to a warm home with smart controlled heating from Warmaway.
All our heating systems are available with smart controls so you can adjust from your internet phone or iPad/tablet. Our expert heating engineers can also add intelligent controls to your existing heating system. You can trust us to advise you on the most efficient and appropriate system for your home. Warmaway guarantees to tackle any job to the highest of standards, we'll save you energy costs whenever we can. We are proud of the excellent reputation we have built over the last 45 years.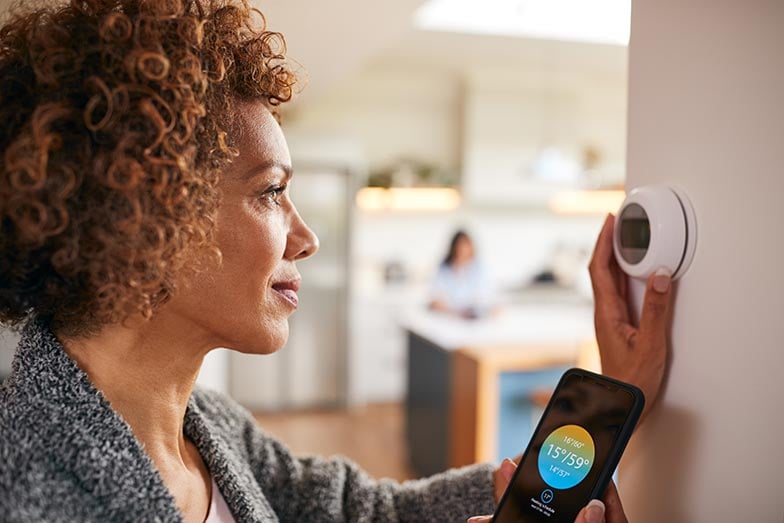 Wanting to install Smart Controls?
Interested in bringing simplicity into your home? Get in touch with our engineers and discuss your heating systems needs today with smart controls.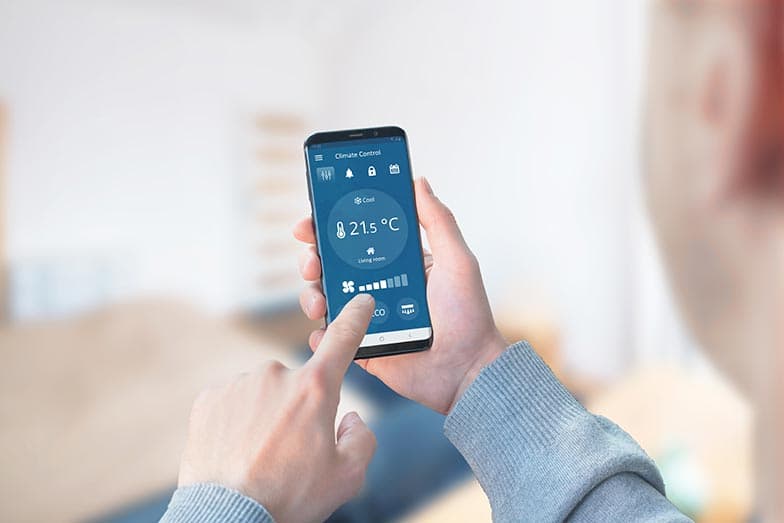 What Are Smart Heating Controls?
Smart controls have the ability to be connected to the internet, meaning that you can precisely control your heating on the move via your smartphone, tablet, or computer.
The technology enables smart controls to learn routines and automatically adjust heating and hot water based on average usage, keeping you comfortable and in control of your energy consumption.
Our Smart Control Products
We only install our intelligent smart control systems from trusted and reliable manufacturers including:
Heatmiser
Heatmiser is a UK based company situated in the heart of Lancashire. Combining their intuitive and ingenious knowledge, and technology, they have become one of the UK's leading smart technology manufacturers for smart room thermostats.
Resideo
Resideo is a smart technology solution manufacturing company. With over 130 years of heritage, they have built their smart solutions through merging their intelligence, skills and technology to provide simplicity, ease and efficiency throughout homes.
Ideal Heating
Ideal Heating are heating and innovation experts with over 100 years of research and development formulating industry leading technology to increase ease in controlling your home's heating.
To view our Smart Controls product range, browse through our product guides:
The Benefits of Smart Controls
A smart heating system allows you to take detailed control of your heating, meaning you could save money and extend the life of your boiler.
Being able to control your boiler on the go allows you to adjust your heating schedule dynamically to suit your lifestyle. Whether you're working late, or just can't quite get out of bed, you're able to modify your heating to turn on at a time that suits you.
Smart controls are especially helpful for disabled or older people who may find it difficult moving around the house, letting them take control of their heating at their most convenient location.
If you'd like to learn more about how we could introduce smart control heating to your home, get in touch.
Accreditations












What other people think
I have used Warmaway for a number of jobs (installing boilers, underfloor heating, refitting a bathroom and various maintenance items) over a few years and they are always professional, reliable and very committed to completing to a high standard - highly recommended
New boiler installed and removal of old one and Mains 7 water heater. Work was completed in less than 2 days, the engineers were really friendly, courteous and clean. They explained what they were doing as they went along and installed a new Nest thermostat. They helped me install the app onto my phone and then paired it to the thermostat for me. I would definitely recommend them and use again. Excellent service.
Warmaway installed an Air Source Heat Pump and several new radiators for us in February 2021. Everything about the process was professional courteous and efficient. The quote was clear and competitive and everything was explained about the system and the installation. We were kept informed at every stage and knew when to expect the team to come and work. All the team on site were extremely polite, tidy and hardworking. We had a courtesy follow-up visit just to check we were happy with the system and tweak any settings. I recommend Warmaway to anyone who enquires about our new ASHP.
A fantastic service from start to finish. No nonsense advice, turned up when they said they would, cleaned up after themselves and were thoroughly nice people. We had a ground-source heat pump installed with some extra radiators inside. Any snags were fixed very quickly and cheerfully. Ongoing advice by phone or email is never too much trouble. I can't reccommend them highly enough and have encouraged several of my friends to use them - which they have with great results. Please can we have more companies like Warmaway in the world?
Copyright © 2023 Warmaway Mechanical Ltd.
Registered Company number - 12385820
Registered in England & Wales VAT Number - 383552381