Ideal Heating Halo Wi-Fi Combi Wireless Thermostat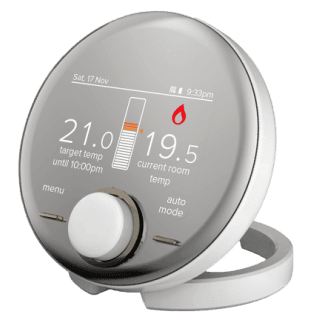 Easy use, easy installation and ease of management. Have control of your heating everywhere you go with the Ideal Heating Halo WiFi Combi Wireless Thermostat.
Product Description
The Ideal Heating Halo WiFi Combi Wireless Thermostat is a sleek, smart and stylish thermostat handing you the control to manage, log and adjust your heating schedules, temperature and hot water, through the Ideal Halo app, all from the comfort of your own home.
Ideal Heating Logic Max Combi2 Boiler Features
The Ideal Heating Logic Max Combi2 Boiler we offer is an intelligent, high-level unit that comes with:
2-year warranty
Smart home compatibility with Alexa, Amazon, and Google Home devices.
Geolocation – perfect for lifestyle-based heating.
Smart support which automatically sends boiler data to Ideal Heating customer service.
Intelligent user interface with a simple button and dial connection and a clear, large, colour screen display.
Flexible, intuitive, and sharp technology for heating control anywhere, anyplace, anytime through the Ideal Halo app.
About Ideal Heating
With a prolific heritage of over 100 years of innovations and experience in perfecting domestic heating systems, Ideal Heating develop and manufacture premium, top-quality boilers. Their knowledge, skills and expertise create reliable systems allowing us to provide our Warmaway customers with the boilers to fit your central heating system's needs.
How Warmaway can help:
Warmaway are your trusted professional Yorkshire central heating providers. We install, maintain and service first-rate, high-quality combi boilers and accessories. With this, prioritising our customers ensuring we deliver trusted, reliable, and exceptional service.