Answering the 6 most common air source heat pump (ASHP) questions
Adam Redgwick
Posted 
under

Renewable energy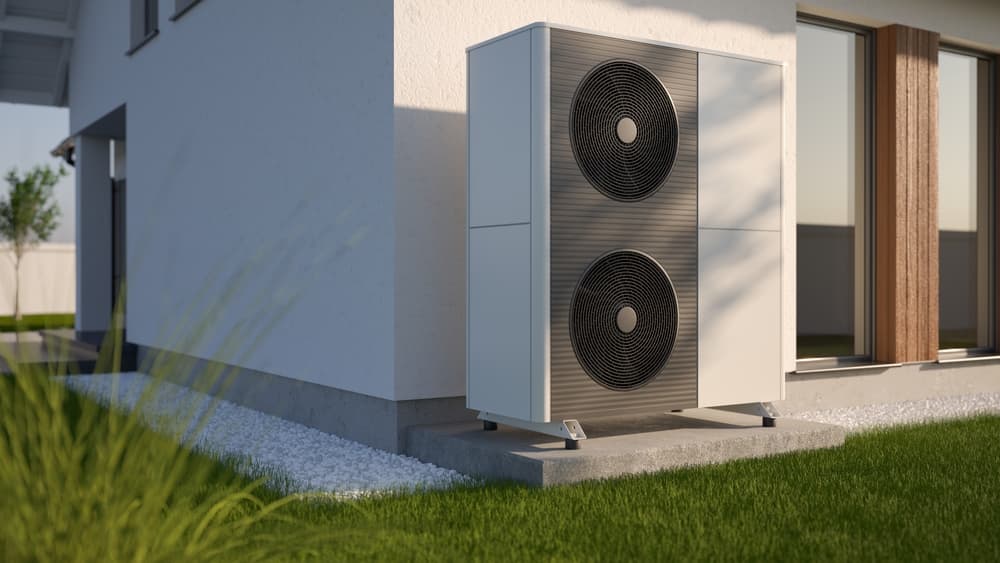 As new initiatives provide extra funding for high-efficiency, low carbon heating systems, learn about the air source heat pumps that can power your home.
Is there government funding for air source heat pumps?
Yes! The Boiler Upgrade Scheme went live in April 2022 and will run until April 2025 as a replacement for the renewable heat incentive.
Using this scheme, homeowners in England and Wales can save £5,000 off the cost of installing a new air source heat pump.
How loud is an air source heat pump
An air source heat pump is usually between 40 – 60 decibels. This might be hard to quantify unless you're surrounded by audio measurements regularly, so let's break it down!
40dB – A quiet library
60dB – A dishwasher (Source)
As your ASHP will be installed in your garden (or sometimes on a flat roof), it won't be intruding at all on noise levels within your home. Additionally, because sound disperses inversely proportional to the squared distance, if your ASHP is 40dB at 1metre, it'll be exactly one quarter as loud if you move one metre further away – so don't worry about it affecting the ambience if you have a summer BBQ!
Should you leave your ASHP on 24/7
Your ASHP differs massively from any boilers you may be used to having in your home. This is instantly evident in the fact that you should never turn it off. A boiler might use very high heat to heat your water in short bursts, whereas a heat pump will use a medium heat over an extended period of time. This means that you might have hot water for a shower within 30 minutes of turning on your boiler – this wouldn't be the case with an air source heat pump.
Given this, it's convenient that the most cost-efficient approach is to keep it turned on always. Despite this sounding costly, in fact this uses a small amount of electricity – however turning it off and on completely will use a large amount of power. For this reason, it's recommended that you utilise the 'holiday' or 'summer' modes on your unit to correspond with you being away from home, or heating not being required. By leaving your ASHP turned on 24/7 you'll still be making huge savings compared to a boiler that's turned on intermittently.
Will an air source heat pump impact the water temperature for my showers and baths?
This is one of the most frequently asked questions because a heat pump doesn't heat water to the same temperatures that a boiler might. However, this isn't something to be concerned of due to the following:
Average boiler water temperature: 70°C
Average ASHP water temperature for radiators: 35 – 45°C
Average ASHP water temperature for hot water: 55°C
Average shower temperature: 37 – 43°C
There will be a redundancy in the heat difference between system output and what you'd like to be showering in, even with an ASHP. You'll still be turning down the temperature to avoid scalding yourself!
If this is still a worry, discuss it with your heating engineer when they're outlining your system requirements – this ensures that your ASHP can provide you with peace of mind all year.
Can an ASHP provide both hot water and heating for my home?
Yes! While the hot water for your bathrooms will require a slightly more powerful heat pump compared to the heating for your radiators – this is very attainable. This will be discussed in the original project scoping with our dedicated heating engineers.
Does an ASHP work year-round or is it limited to summer?
Your air source heat pump is designed to work all year irrespective of seasons. Sweden currently has the highest number of heat pumps per capita, and they endure a winter far more severe than ours each year.
Most air source heat pumps can produce heat in temperatures all the way down to -10°C or -20°C. At these temperatures you'd be noticing a significant reduction in the heat output, but it would have to be a record-breaking British winter to be approaching these extremes!