New Boilers: A Complete Guide
Peter Elliston
Posted 
under

Uncategorized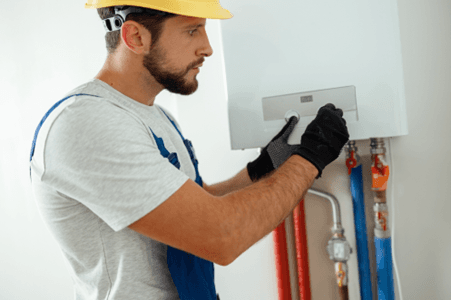 Has your current boiler broken down on you? Maybe it is time for a new boiler. Ensuring your boiler is working efficiently and at an optimum level is always necessary, especially in the UK climate. So, investing in a new boiler is always a wise decision.
However, you may have many questions and thoughts running through your head when deciding whether to make that investment in getting a new boiler. For example, how much does a new boiler cost? Or what are the pros and cons? Is there another central heating system that could be better suited towards me?
At Warmaway, we understand that investing in a new boiler is a big decision and so we look to making it that little bit easier for you. Our ethos is to ensure our customers are in safe hands and we provide the best our services have to offer. So, in this blog we look to answer all these questions and give you more comfort and clarity in your investment decisions based around your home's central heating systems.
How much is a new boiler?
Usually, boilers can generally cost around £2,500 to £4,500 including installation, here at Warmaway we aim to tailor our prices to exactly what you need for your home. The price of a new boiler can depend on a range of different factors, including:
Whether your boiler needs replacing or servicing
The size of your property
The location of your current boiler (e.g., a combi boiler will require combi pipework which may be more complex to install depending on where your boiler is in the property)
It is important to note to not always go for the cheapest boilers as they tend to have more expensive parts and so any maintenance costs and time are usually higher. As a result, you could end up paying more in the long run, in comparison to getting a good quality boiler installed first.
Here at Warmaway our focus is ensuring all our customers have the best quality boilers installed. Don't compromise on quality when it comes to a new boiler.
What Warmaway Provides
Here at Warmaway, we only install A-rated condensing boilers. Warmaway are also Ideal Max Accredited and Worcester Bosch accredited to install our full range of combi boilers. For more information on what boilers we install, view our product guides.
For a more granular idea of the price of a new boiler tailored to your home, contact a member of our team.
Why should I get a new boiler?
1. More cost effective and energy efficient
Replacing your boiler will become more cost effective over time. It will reduce your energy bills due to the system being newer and updated and so works at a more energy efficient way. In general, the lifespan of a boiler is usually around 10-15 years due to it becoming less efficient. This means if your boiler is older, it may be time to replace it.
2. Improve home safety
Keep you and your family safe with a new boiler. Depending on the reason for changing your boiler, a faulty or old boiler can become prone to being hazardous to your home with risking carbon monoxide poisoning by which you should contact your gas engineer immediately. A new boiler is urgently needed if this is the case.
3. Reduces your carbon footprint
With a new boiler being more efficient, it means it converts more fuel into heat at around 90%. This increased efficiency is due to there being a reduction of waste which prevents consuming more fuel than needed. As a result, less fuel consumption is needed thus reducing your home's carbon footprint. You can become more environmentally friendly by replacing your boiler.
4. Increases the value of your home
Having a more efficient and updated boiler is not only worth more but is more enticing for a home buyer due to the home requiring less expenses for the buyer. So, if you are interested in selling your house, you could potentially get a higher value for your home.
5. Create more space in your home
Older boilers are usually bulkier and larger than the modern and updated boilers. New boilers are usually smaller in size meaning it will take up less room in your home.
6. Create peace in your home
New boilers usually operate at lower noise volumes – meaning more peace and quiet for you.
Things to consider when getting a new boiler
Some things you should consider before getting a new boiler include:
Choose the right type of boiler for you and your home. Depending on the factors mentioned in the costs section, it depends what boiler is best suited for your property. For advice and help when choosing which boiler to install, contact our team
Ensuring that your boiler still functions properly. Getting a qualified gas engineer to fully check your boiler is recommended, especially if your boiler is under 10 years old.
Consider the aftercare for your boiler by choosing a suitable maintenance and services plan.
For more information on servicing and maintaining your boiler, check out our service and maintenance page where you can choose a plan best suited to ensure you get the most out of your boiler and ensure it is safe and working at peak performance for your home. At Warmaway, all of our engineers are highly qualified with vast experience. Your home is in safe hands with Warmaway.
Ready to invest in a new boiler?
It can be a long and difficult decision to get a new boiler. However here at Warmaway we take pride in our work, experience and knowledge to deliver the best service to our customers.
To read more around how we work, visit our New Boilers page to find out more on what we provide and offer.
If you're ready to have a new boiler installed, contact us today and make an enquiry.