Why it's important to get a boiler service
Warmaway
Posted 
under

Boiler servicing

Boilers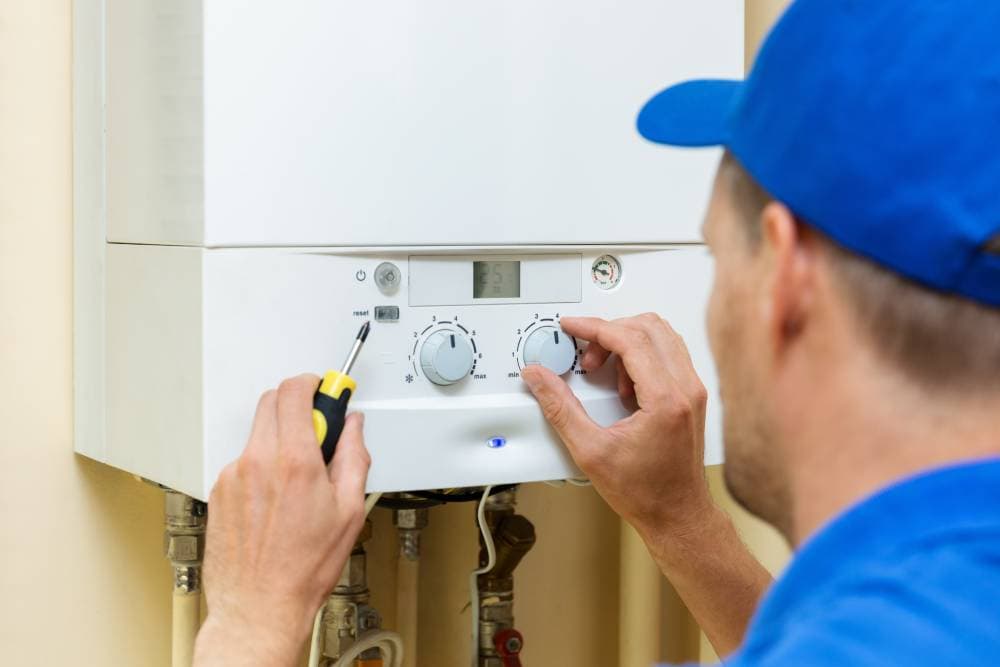 Everything you need to know about getting your boiler serviced
Servicing your boiler regularly is incredibly important. It's not a legal requirement, but we strongly advise you keep up with boiler maintenance to keep you and your family safe and to minimise problems that can be caused by a faulty boiler.
Getting your boiler serviced can benefit your household in numerous ways, not only to ensure your hot water and heating is running smoothly, but also to provide peace of mind and reduce costs in the long-term. We've broken down all you need to know on why it's important to get your boiler serviced regularly.
A boiler service ensures safety
Safety is by far the most important reason to get your boiler serviced. Boilers burn fuel, so if there's a gas leakage, poisonous carbon monoxide fumes may be released. This can be very dangerous, especially as you can't see, smell or taste gas. Getting your boiler serviced by a registered Gas Safe engineer provides reassurance that it's safe and working properly.
When you get your boiler serviced, the engineer will examine your boiler for problems and leaks. The inspection shouldn't last too long. They'll service the parts inside and complete a series of checks to ensure that it's working as safely and effectively as possible. Checks include testing the following:
Boiler controls
Pressure settings
Safety devices
Flues
Surrounding pipework
Radiators
Water condition
It will save you money in the long-run
Although boiler maintenance might seem like an unnecessary expense at the time, it can save you money in the long-run. Chances are, if your boiler is heading for a breakdown, you probably won't know about it until it's too late.
A simple check by a Gas Safe engineer ensures that underlying issues can be nipped in the bud there and then, reducing the chances of them escalating into major faults later on. This can save you from having no hot water, needing costly emergency repairs or in the worst-case scenario, having to buy a brand-new boiler. The engineer will also check that your boiler is running efficiently, which may contribute towards a reduction in heating bills.
It will maintain your warranty
If your boiler is still under guarantee, it's likely that the warranty will only be valid if you get it serviced yearly. So, if you don't arrange an annual check-up, you may not be covered for breakdowns and repairs. Likewise, if you have boiler cover, you'll need to read the small print as most insurance plans require you to have an annual service for it to be valid.
It's a legal requirement for landlords
If you're a landlord, it's a legal requirement that you get any gas appliances in your properties serviced every year. You'll also need to obtain a Landlord's Gas Safety Certificate as proof.
It can help when selling your house
While homeowners aren't legally obliged to get a boiler service, it can help when it comes to selling your house. Potential buyers may want to see your boiler's service history to check it's in good working order.
Warning signs it's time to book your boiler service
Water pressure signal comes on and is displaying below 1-1.5 bar
The boiler flame turns yellow instead of blue
The pilot light keeps turning off
Hot water is not as hot or flowing as well as it should be
Smoke or stains around the appliance
How often should you service your boiler?
As boiler specialists, we would recommend never leaving your boiler for more than a year without a service. Our expertly trained engineers can service all makes and models of gas boilers across Yorkshire. We also provide a free boiler service as part of our boiler service and maintenance plans.
Get in touch with us today to arrange your annual boiler service.